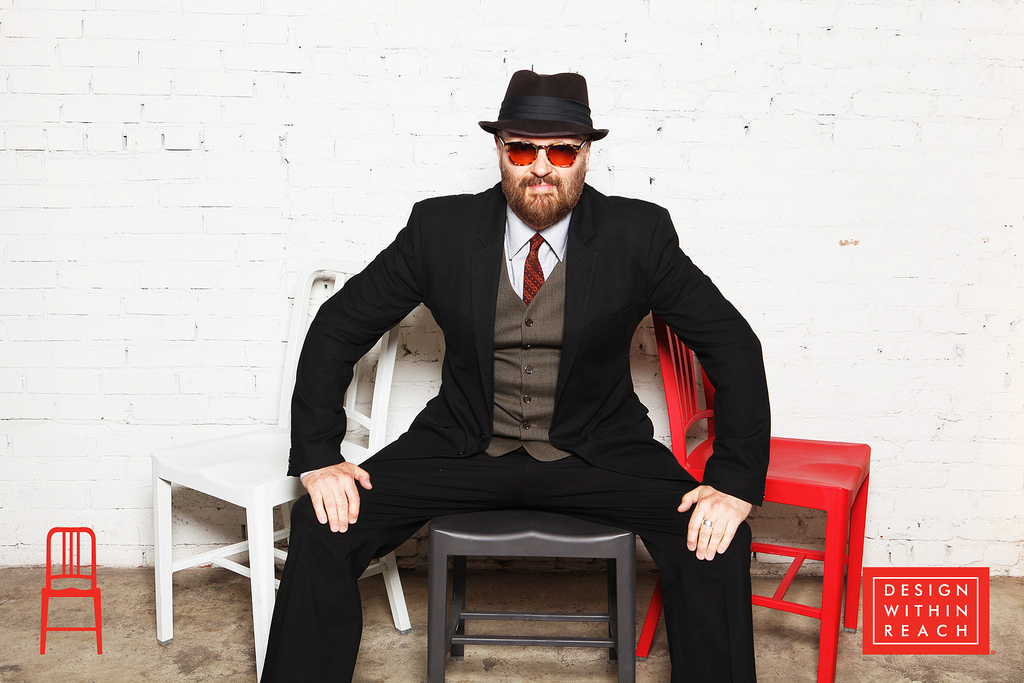 Born in Essex, England, Christopher Collicott's creativity was apparent from the beginning, with his backyard plays utilizing handmade sets and costumes leading him to the Norwich School of Art. After graduating in 1982, he flew to Los Angeles, where he struggled to make a living designing cartoon character t-shirts and pop-up greeting cards, only occasionally finding real jobs like fabricating sets for TV commercials or assisting on record covers for artists like Bryan Ferry and the Go-Gos. One day he took the bus to a store to collect on an order and didn't have the fare to return home. Still, he was happy. He was doing what he loved, and he always maintained that he never worked a day in his life.

The next few years saw Chris design decorative home accessories that combined unusual materials in non-traditional ways, such as cement and glass vases and patinated metal bowls with found industrial materials like surplus auto or aircraft parts. These pieces -- hand-made, short-run and limited-edition -- were sold in major museum and design stores, and were featured in many design magazines and books. His groundbreaking Wrench Bowl was the first recipient for the Accent On Design Award from NY NOW and is now in the permanent collection of the Smithsonian American Art Museum.

Working for his friend Anthony Robinson, owner of Details and the Outlaws Club in London, Chris created the interior, furniture, and fixtures for Hot House, a new home accessories store on West Broadway in New York City.

Animal-shaped drawer pulls were his first venture into mass production, and an immediate large-scale success, appearing on the cover of Metropolitan Home magazine.

In 1990, Chris' move to New York City ignited a fixation with Machine Age design that resulted in the Pushing and Leaning Man bookends. He'd sold less than a hundred when Kevin Brynan, then owner of the iconic gift shop Mxyplyzyk, introduced him to Jan van der Lande, founder of Kikkerland Design, a company that sells clever and playful gifts to retailers around the world. They quickly became friends and within a year Kikkerland sold over a hundred thousand pairs of bookends. With their help, Chris' dedication had finally paid off.

While continuing to create new products, Chris also designed four New York day spas and crafted several books, which are now in the collections of many universities and museums, including the Smithsonian. In his spare time he loved to paint.

One day Chris saw a photo of Queen Elizabeth with President Obama and his wife. The queen looked so small, he thought, it was like she could fit on a mantelpiece. He decided to make one who would. He labored for months using parts cobbled from solar-powered dancing flowers without knowing if it would ever work. Every day was another setback -- another microscopic wire accidentally cut, which led to another flurry of swear words, and another trip back to the beginning -- but he finally got the regal motion right. Timidly he showed it to Jan. "Is this ... anything?" he asked. Yes, Jan said, immediately agreeing to manufacture it. Their belief in the odd artwork was confirmed a few months later by the installation of eighty Solar Queens in the window of the Paris Louis Vuitton store.

It had to be Chris' personal career highlight that the British Royal Family loved the Solar Queen. He heard from various insiders that every member of the family had one. The Express reported that Queen Elizabeth actually kept one on her desk in Windsor Castle. "The sun comes out and it goes 'click, click, click' and I see myself waving at me!" she told her cousin Lady Elizabeth Anson. Still, Chris and Jan were surprised with their invitation to Queen Elizabeth's 90th birthday celebration.
The Solar Queen waves to the real Queen.